It has only been four days since Pride Month ended, and yet, in an insensitive move that has rightly backfired, the Petitions Committee wanted to gather more intel on how to define "conversion therapy" and the impact that it has on the LGBT+ community by getting people to fill out a survey as a platform for people to share their opinions about something that is clearly wrong.
This sparked outrage because it felt like the process was being drawn out, and people were being asked to justify why something that causes incredible harm like this form of torture should be made illegal. It also came across as tone-deaf, with a handful of unsympathetic questions.
In a response that was welcomed, links to the survey were subsequently deleted, although there were some reports of the survey still being active hours after this. The apology itself (below) sounds incredibly arrogant, but at least they responded quickly.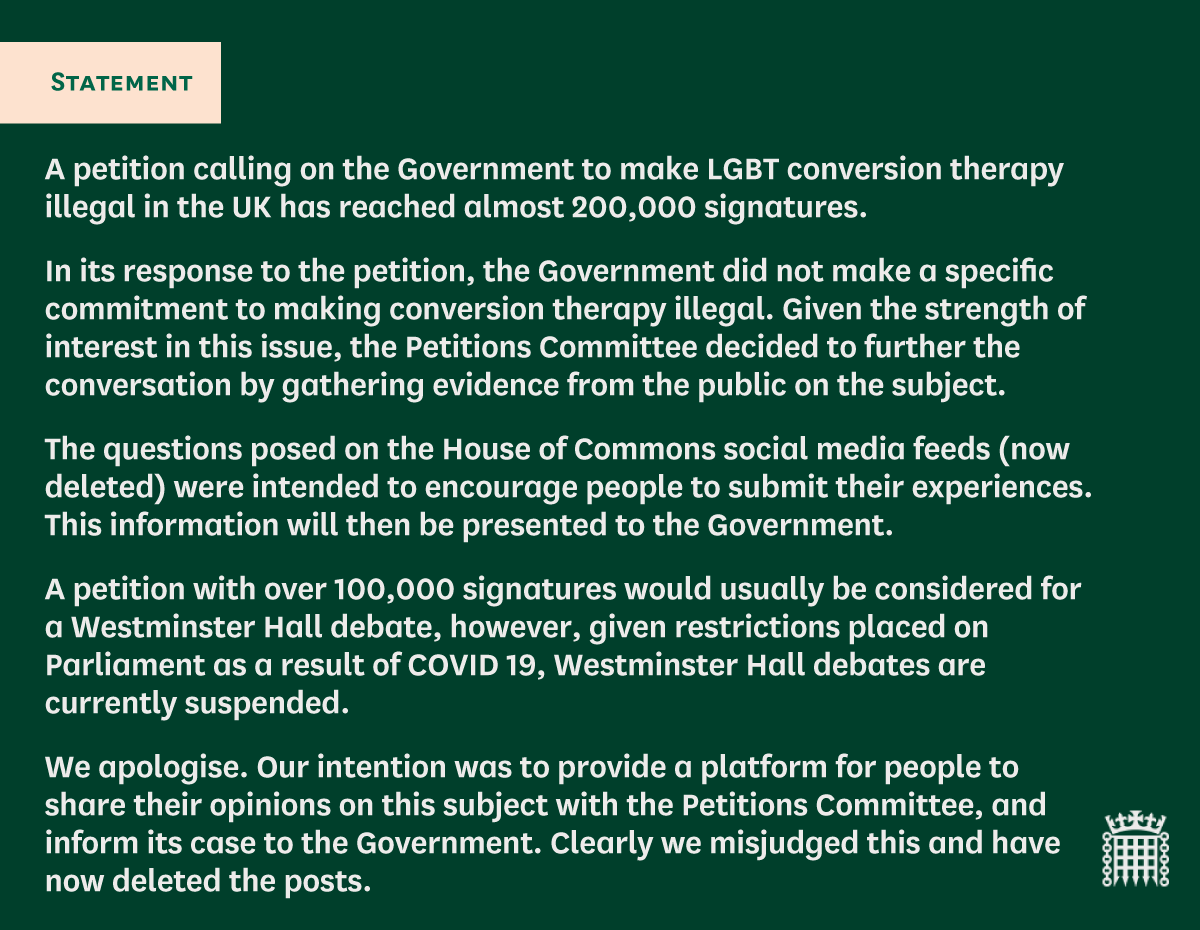 What this does highlight is unnecessary levels of intransigence and delay, which characterise many other areas of policy I discuss here. And there is a clear way to approach this.
The Government committed to taking action on this two years ago. A petition (and I note, that petitions are something that the Government has not initiated) with enough signatures to be debated in Parliament may have reminded them of this, but the response will not exactly be reassuring.
When responding to the petition, equalities minister Kemi Badenoch said that the Government was still considering how to move forward with this "very complex issue". I can think of other "very complex issues" which have been being discussed relentlessly at a similar time to this which apparently are not a problem (Brexit).
I would be interested to know what exactly is complex about "conversion therapy". If anyone had undergone significant amounts of psychological trauma that were later revealed, action would be demanded. This is exactly what "conversion therapy" involves. Anyone who says otherwise is just trying to defend the indefensible. And yet, nothing obvious is being done about this issue which continues to have an impact on people's lives on a daily basis.
Things like "conversion therapy" still being legal highlight the UK still has a long way to go in overcoming LGBT+ discrimination and poor treatment. It's not just about putting up a Pride flag for one month a year, it's about taking real action.
Action in the future is not good enough. Action needs to happen now.