2019 has been a rollercoaster of a year in UK politics. There have been several themes throughout the year, including Brexit, the environment, the NHS, the General Election and the nature of the political debate. In the second of this series, the focus is on the environment.
This year saw a growing awareness of environmental issues, with groups such as Extinction Rebellion and individuals including Greta Thunberg urging immediate action while deploying methods including student strikes and widespread disruption. It meant that the environment was put firmly on the agenda.
Some of the techniques employed by the former group were controversial, including targeting public transport systems such as the London Underground when commuters were trying to get to work. A few of their blockades also required the police to intervene, leading to questions about where the line could be drawn.
The student climate strikes, encouraged by TIME's person of the year – Greta Thunberg – were criticised by the Government for disrupting education; however, this appeared to have the desired effect by leading people to acknowledge the issue the strikes were about. Outside of the strikes, additional pressure was piled on world leaders to take action at several summits throughout the year, particularly those such as the United States who unilaterally withdrew from the Paris agreements in recent years.
Something that stood out was Thunberg's speech at the UN Climate Action Summit. This is an example of a speech from someone who is truly passionate and is not afraid to speak their mind at length. It is inspirational that a person who is not a politician or part of an institution has made such an impact. It also shows that things can be done outside of the conventional political realm, and has also engaged a generation of young people – which is commendable.
The strategy of all of these groups and people is starting to pay off, as shown by a range of stats. YouGov found that environmental concern is at a record level, posting the following graph in July: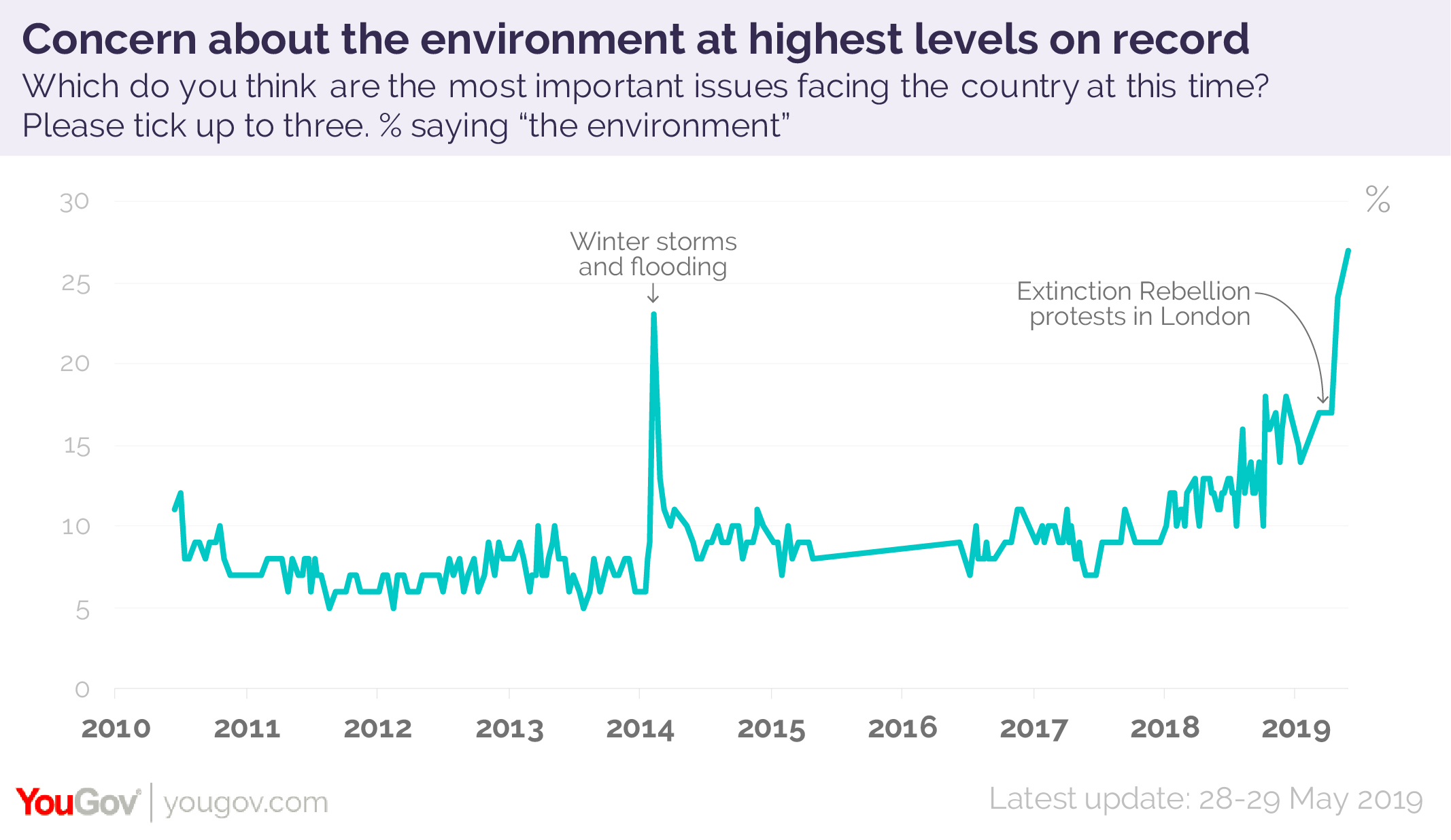 Another set of data from YouGov demonstrated that many people consider that climate change would have serious consequences, including wars, economic damage and displacement.
There have also been further moves to reduce the level of single-use plastics, with the (re-)introduction of public water fountains and supermarkets announcing strategies to eliminate these materials. Outside of this, what have the responses been among politicians and how has the UK been doing?
The Government announced that they would ensure the UK reached net-zero greenhouse gas emissions by 2050, significantly revising the legislation in place calling for an 80% reduction. "Net-zero" provides some room for manoeuvre, meaning that these should be avoided completely, or additional trees and mitigating measures should be implemented.
All parties committed to environmental action in their election manifestos; with the Conservatives promising an Environment Bill which would include a new regulator and further action on the use of plastics.
However, some have said that the action does not go far enough, with Greenpeace claiming that the UK will miss several targets in 2020. More details can be found here.
That said, it does appear to be the right direction of travel when looking at some stats such as greenhouse gas emissions, although the pace is not necessarily as rapid as it should be. Official stats from the ONS show that between 1992 and 2018, there was a 32.4% reduction.
On a more general level, several issues need to be resolved, and quickly. This also needs to be multilateral, as action from a single country will not suffice.
The actions which are taken on the environment in 2020 will have a significant impact, and as developments this year indicate, there are many things outside of the standard political arena that can be done. Alongside greater public awareness, perhaps we will see more movement as we look to a new decade. The question is whether this will be enough.